Get a Free Home Inspection and Protect Your Home With a Termite Bond
Like sweet tea and BBQ, termites are mostly a southern thing. Unfortunately termite damage is far less appetizing and home insurance usually won't cover the cost! A termite bond keeps your home safe by preventing termite infestations and gives you peace of mind.
Termite Prevention is Always Preferable to Termite Damage!
Termites cause over five billion dollars of damage to buildings in the United States annually and the average repair cost for homeowners is $3,000 – don't let your house be part of these statistics! A termite bond protects your home from this costly catastrophe and keeps termites at bay.
Inspect Home For Current Termite Infestation
The first step in getting a termite bond is to ensure that there is no active termite infestation. We offer a free, no-obligation termite inspection, and use non-intrusive investigation techniques to ensure your home is free from termites.
Apply Preventative Termite Treatment Around Perimeter Of Your House
We protect your home from termite invasions by applying Termidor, a liquid termiticide, to create a protective barrier around your home, using Sentricon baiting system, or a combination of the two.
Annual Termite Inspection and Re-Treatment
With an annual termite inspection agreement plan, once a year our technicians will return for a termite inspection and re-apply the protective treatments. This service can be combined with our pest control services, protecting your entire house from all sorts of pests.
A Termite Bond Means Peace of Mind
Your home is your biggest investment and the idea of termites literally devouring it is understandably terrifying. In South Carolina an untreated and unmonitored house will inevitably have a termite infestation – it is a question of when, not if.
The only way to prevent this is through annual preventative treatment and monitoring, and we recommend that all new homeowners make this one of the first things they do in order to protect their investment.
Reasons To Choose Cramer Pest Control – Fort Mill SC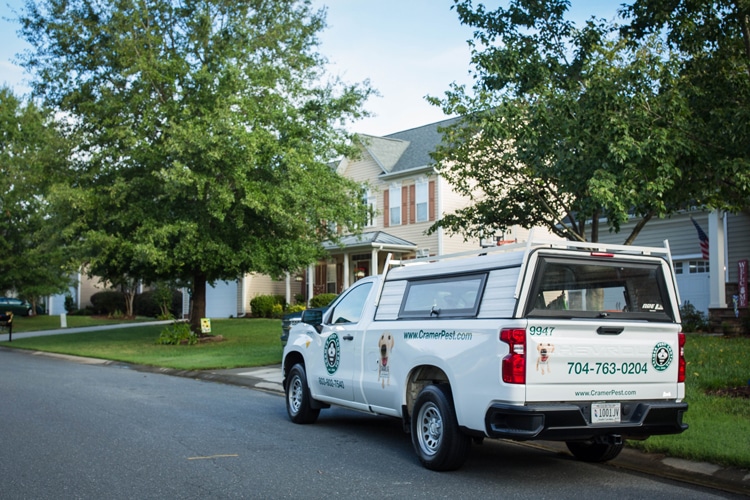 We're Only Finished When You're Happy With the Results
At Cramer Pest Control we don't consider our job done until your pest problem has been completely handled. After our technicians visit your home you'll receive a follow-up call – if you have any remaining concerns let us know and we'll take care of it!
Expert Service Comes From Expert Training
A core component of our business is training. All of our termite technicians are Master Certified – an optional certification that, while not required, gives us the skills to provide you with the best possible termite protection. Additionally, our technicians carry Clemson Extension University 7A certification and are Sentricon certified, allowing us to safely use and apply EPA-regulated pesticides.
A Commitment to Customer Service
Everybody says it, but so many pest control companies get it wrong. From your first phone call, to our technician's visit, to follow-up calls you can expect an unrelenting commitment to your satisfaction. We don't just want customers, we want raving fans.
See What People Have to Say About Our Pest Management Services

Definitely Recommend
"Cramer Pest Control provided top notch service for my condo. I received great costumer service from Jared. He answered my emails & phone calls in a timely fashion. My technician Jeremy Sims was awesome! He took time to not only explain the service but gave me suggestions to help prevent the problem from occurring in the future! I would definitely recommend Cramer to anyone looking for quality service. Thank You Cramer."
– Daniele S.
You'll Be in Good Hands
"We started using Cramer in November 2020 and since they were hired….no more bug problems inside the house. On-time and very friendly. If you are fortunate enough to have Paul take care of your servicing, you'll be in good hands."
– Stacy T.
So Happy!
"We are so happy with Cramer Pest Control. We have been clients for several years for pest control. During a routine service call, CJ alerted us to a pipe leak that we had no idea was occurring. As a result, we were able to have a plumber and contractor come and fix the issue. It could have turned into a much bigger issue. Thank you!"
– Tina S.
Frequently Asked Questions
Do you offer termite letters for homebuyers?
Yes, we are able to provide a South Carolina Wood Infestation Report (CL-100) or a Wood Destroying Insect Report (WDIR) for North Carolina. These reports are often required by lenders for new home purchases.
Is termite damage covered by my homeowners' insurance policy?
In most cases termite damage is not covered by home insurance policies. We offer a termite bond which includes $50,000 in protection against property damage caused by termites and other wood destroying insects for added protection.
Is my termite repair bond transferable?
Yes, we offer a transferable bond at additional cost.
Do you offer a warranty for your termite bond?
Yes, if at any time during the term of the bond a termite infestation is detected, you are eligible to receive a free termite control treatment.