As we get closer to spring, we should start keeping in mind the chores that will need to be done. At Cramer Pest Control, we want you to be aware of all the ways pests can get into your home and annoy you and your family. As the temperatures start to rise in the spring, pests will be on the move. One of the most common places we find pests are in clogged gutters. So when spring arrives, don't forget to clean out your gutters to make it harder for pests to get into your home. 
Here in Charlotte, we love our trees, and we love having them in our yard. The downside of having trees in your yard is that the leaves wind up getting stuck in our gutters. It may seem like a simple fix but left unchecked; clogged gutters can attract pests that can gain entry into your home. If that wasn't enough to convince you of the importance of cleaning out your gutters, the damage caused by a clogged gutter could cost you tens of thousands of dollars in-home repairs.
How To Tell If Your Gutter Is Clogged
Usually, the first signs of a clogged gutter are seen from the ground, but by that time, the damage is already being done. Here are some signs you can spot from the ground that your gutters are clogged.
Water spills over the edges of the gutter.

Water collecting around your foundation.

Leaks in the basement.

Water is leaking where your walls and ceiling meet.

Water is not flowing out the bottom of the downspout.
You can also notice the signs when it is not raining. Here are a few of them:
Eroded drip line in the ground below the gutter.

Peeling paint on siding and fascia.

Wet, moist, or dirty siding beneath the gutter.

Gutters pulling away from the house from too much weight.
In Charlotte, Clogged Gutters Can Flood Your Yard
The job of your gutters is to direct water away from your home. When gutters get clogged from leaves and other debris, water can overflow and flood your yard or flower beds below. It can even cause your soil to erode away from the foundation of your house. If you notice water pooling around your foundation during rain, you might want to get a ladder and check on your gutters and downspouts.
Clogged Gutters Create Habitats For Pests
Here in Charlotte, gutters clogged with leaves and organic debris can be an attractive spot for pests and rodents like mice, squirrels, and mosquitoes. Once they have moved into your gutters, these pests can easily access your home via damaged attic vents, rotting boards, or chimneys. 
Mosquitoes
When your gutters get clogged it dams up the water and creates a reservoir that is perfect for mosquitoes to lay their eggs. So make sure all water is flowing and exiting your gutters properly to make sure mosquitoes aren't using them as a breeding ground.
Birds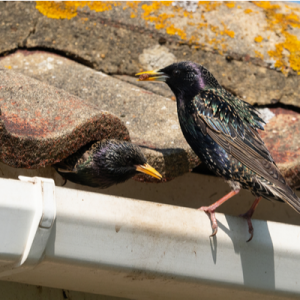 In the spring, birds look for a cozy place out of the wind and rain to build their nests. When birds build their nests in gutters, it can cause water to back up, spill over the edge, and erode the soil near your foundation, leading to foundation damage and basement flooding.
Rodents
Rats, mice, bats, and squirrels are also attracted to a clogged gutter. Rodents love to climb, and if they have moved into your gutters they will be spending a lot of time on and around your roof. From here, they can easily chew through a board or screen to gain entry into your attic and crawl spaces. 
Keep Pests Out Of Your Home With Residential Pest Control. Call The Pest Control Experts at Cramer
If you notice pests in or around your home. Call the professionals at Cramer Pest Control. We have years of experience dealing with pests of all shapes and sizes. If you want to protect your home from fall pests this year, ask about our residential pest control program. 
Own a business? With our Commercial Pest Control program, we can save your small business from being overrun with pests.
Don't wait for the problem to get out of control. If in North Carolina, call us now at (704) 763-0204. If you're in South Carolina call us at (803) 802-7540 to get started. You can also contact us here for more information. Don't forget to check our blog for monthly pest control tips and tricks.